ArboStApp™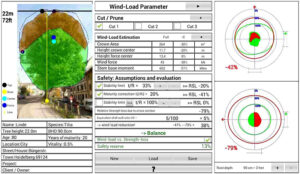 Computer program for determination and comparative evaluation of:
Tree wind load and the (safety-) effect of reduction pruning
Stability reduction by deteriorations in trunk/branch cross-sections
Tipping-stability reduction by root decay and/or trenching
Available in different languages (German, English, French, Russian)
Combines ArWiLo™ and ArboMech™ with comparative safety-balancing based on cross-section condition and wind-load (reduction)
ArboStApp™ provides arborists and experts with a tool allowing the determination of strength loss due to structural defects in the cross sections of stems and branches and anchorage plate losses in relation to canopy size and expected wind-loads. In addition, the application enables evaluation of load reduction by crown reduction pruning to further achieve higher safety in damaged trees. The inputs are based on the users visual observations rather than diagnostic instruments but enable accurate (if not as precise) estimations of safety which are sufficient for many tree assessment purposes. However, the precision of the evaluation can be increased by putting in results from proper sonic tomography or resistance drilling with density-calibrated devices.