CoreJector™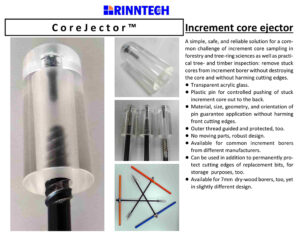 A simple, safe, and reliable solution for a common challenge of increment core sampling in forestry and tree-ring sciences as well as practical tree- and timber inspection: remove stuck cores from increment borer without destroying the core and without harming cutting edges.
Transparent acrylic glass.
Plastic pin for controlled pushing of stuck increment core out to the back.
Material, size, geometry, and orientation of pin guarantee application without harming front cutting edges.
Outer thread guided and protected, too.
No moving parts, robust design.
Available for common increment borers from different manufacturers.
Can be used in addition to permanently protect cutting edges of replacement bits, for storage purposes, too.
Available for 7mm dry-wood borers, too, yet in slightly different design.